Aga Zaryan Picking up the pieces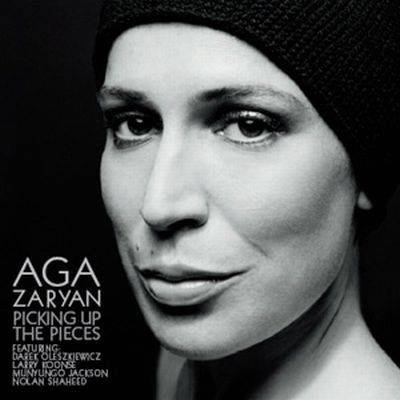 Wytwórnia:
Cosmopolis
Wykonawca:
Aga Zaryan
Tytuł:
Picking up the pieces
Ocena ogólna:

(4.5/5 na podstawie 2 opinii)
Autor: makowiec

Data dodania: 07 sierpień 2011
Muzyka - ocena

Dźwięk - ocena

O muzyce
Wyjątkowe interpretacje standardów jazzowych. album ma niepowtarzalny nastrój za sprawą interpretacji Agi Zaryan i świetnych instrumentalistów. Wyczuwa się powiew czegoś "nowego" Dosłownie muzyka unosi się. Głos Agi jest aksamitny, kojący, co za barwa! Niech się schowa Diana Krall. Balsam dla uszu i duszy ;)
O dźwięku
Wyraźne brzmienie każdego z instrumentów. Za sprawą aranżacji dużo przestrzeni. Dobrze się słucha zarówno wokali jak i partii instrumentalnych. Rewelacyjna muzyka, rzetelna, prosta produkcja bez zbędnych efektów. Ot, recepta na skukces ! Można słuchać bez przerwy.
Autor: reart

Data dodania: 14 luty 2009
Muzyka - ocena

Dźwięk - ocena

O muzyce
Płyta marzenie. Odkrycie roku, wręcz dekady. Nie wiedziałem że w naszym kraju śpiewa światowej klasy wokalistka jazzowa. Aga vel Agnieszka Skrzypek udowodniła że jest po prostu wielka. Bierze na warsztat wielkie standardy jazzowe i śpiewa je po swojemu. Rządzi na scenie i już. Robi to ala la Aga. Nie naśladuje na ślepo wielkich poprzedniczek. Jednocześnie ma rytm, po prostu się buja od pierwszego utworu do ostatniego. Ma znakomite wyczucie rytmiki jazzowej. Nie znam się na tym ale każdy kawałek mie oczarowuje i trzyma do końca. Płyta która w odtwarzaczu można ustawić na Repeat i odsłuchiwać W CAŁOŚCI wiele razy pod rząd. Dla mnie to sama przyjemność i największa rekomendacja. A utwór Throw it Away to po prostu majstersztyk. Podobnie jak Suzanne L.Cohena. Po prostu Aga ma WIELKI TALENT i słychać to na całej płycie w KAŻDYM kawałku. Dla miłośników wokalistyki jazzowej pozycja obowiązkowa.
O dźwięku
Realizacja znacznie powyżej przeciętnej. Może nie jest to płyta audiofilska ale bdb zrealizowana w studiach Los Angeles. Darek Oleszkiewicz dodaje swoje znaczące 3 grosze i całość brzmi perfekcyjnie. Wokal i INTERPRETACJA na NAJwyższym poziomie. REWELACJA. Polecam!
---
---